Columbia University Press announces the release of THE CINEMA of TOM DiCILLO, the first book to cover Tom DiCillo's entire film career to date. The book's foreword is by Steve Buscemi. The official release is September, 2017.
Conceived and written by Irish author Wayne Byrne, the book was put together over 5 years of intensive research and personal interviews with DiCillo, Steve Buscemi, Catherine Keener, Peter Dinklage, Sam Rockwell, John Turturro, Gina Gershon, Matthew Modine and many other creative collaborators on DiCillo's distinctive cinematic journey.
"When Wayne Byrne first approached me about writing this book in 2012 I was immediately struck by his intuitive knowledge of film and more, his deep passion for it. We sat together for the next 5 years and talked, in person and over the phone. The conversations were more intimate, honest and revealing than any I'd had with a film writer. What he has accomplished with his book is remarkable; he has captured my soul." Tom DiCillo
The book covers every film, from DiCillo's first feature Johnny Suede (1991) starring Brad Pitt and Catherine Keener, to his latest, Down In Shadowland (2017) a hauntingly beautiful documentary set in the subterranean microcosm of the NYC subway. In their freewheeling discussions Wayne Byrne leads DiCillo into uncharted territory on the trials and tribulations, the agonies and ecstasies of making each film. The candor and truth is startling refreshing--and informative. A must read for any filmmaker, and anyone who is thrilled by the creative spark.
Follow the book on Twitter.
From THE CINEMA of TOM DiCILLO
"This business attracts more psychotics than any other profession on the planet." –DiCillo on the film industry
"DiCillo had been a military brat; a peripatetic upbringing that somewhat prepared him for the culture shock of New York City. What DiCillo found was that the cast of freaks, punks, and starving bohemians became a source of influence, one which would inform his debut feature film, Johnny Suede." – Wayne Byrne on the genesis of Johnny Suede
"On Nick Cave's first day of shooting I found him sitting in the make-up chair glowering while this wig "expert" was frantically spreading gobs of putty on his forehead and poking at it with a plastic fork. My biggest job right then was to keep Nick from walking off the set." – Tom DiCillo
"But, this was the New York independent film scene in the late-seventies and early-eighties. It was exhilarating. The only goal was to make a film outside the Hollywood system. In fact, no one wanted anything to do with Hollywood. We all wanted to get as far away from it as possible." --DiCillo
"The attitude was really dismissive; they were called "little movies". I remember my agent saying, "So, you'd rather go off and do that little movie?" That was the general attitude towards independent films at the time." – Steve Buscemi on Living In Oblivion
"When Peter Dinklage came in to audition for Living In Oblivion I asked him to think of something personal that would piss him off. He said, "Try patting me on the head." - DiCillo on casting Peter Dinklage in his first film role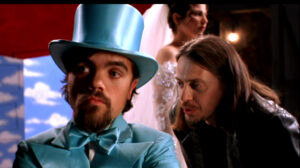 Peter Dinklage, Steve Buscemi and Catherine Keener in Living In Oblivion
"On one film I shot I saw a director get so frustrated with an actor that he began screaming obscenities at her in front of the entire crew and cast. That moment showed me that the most destructive conflicts on the set are about miscommunication, particularly between directors and actors. In that case I learned what I would never do." – DiCillo on the genesis of Living In Oblivion
"There's just a bond there between us. When you work with Tom he makes you feel like you want to do the right thing because he's investing in it emotionally and you'd feel like a fool if you didn't."  Catherine Keener
Tom DiCillo and Catherine Keener on the set of Living In Oblivion
"I loved writing for Catherine. Part of me really connected with her as a woman. There was never anything romantic or sexual between us but the intimacy of our collaboration had at times the real charge of something creatively erotic." --DiCillo
"Brad Pitt walked in and even before he said a word I knew he was Johnny. And the first thing my producer says to me is, "You're not making this movie with some nobody named Brad Pitt. You're not casting him!" --DiCillo on casting Brad Pitt in Johnny Suede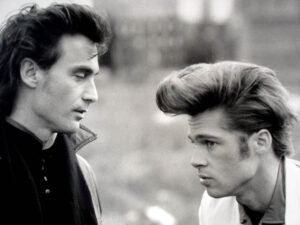 Tom DiCillo and Brad Pitt shooting Johnny Suede
"Brad invited me over to his house the day after the Living in Oblivion premiere. He led me into an old wine cellar in his backyard. It was dark and cramped and we were completely alone. The silence that ensued was so strange I can't even remember what either of us said...I might have mumbled some words of apology but mainly I remember the look in his eyes. It was as if he was telling me I'd hurt him in some deeply profound way...as if I'd betrayed him." –DiCillo on his relationship with Brad Pitt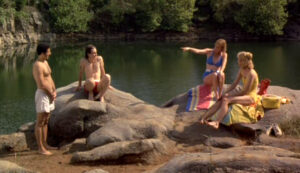 John Turturro, Sam Rockwell, Catherine Keener and Lisa Blount in Box of Moonlight
"Tom and I had a little friction here and there...When you're making a movie the schedule can make people tense and can do a lot of things to you." – John Turturro on Box of Moonlight
 "There were two passionate Italian men –DiCillo and Turturro – and there were strong opinions on the set and I got caught in the middle of that." – Sam Rockwell on Box of Moonlight
 "John reached out and punched Sam in the chest. That was the climactic moment of the tension. I would never condone using physical force to get somebody's attention. Everything is discussable." –DiCillo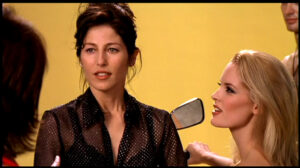 Catherine Keener in The Real Blonde
"I'd written the part for Catherine but Lakeshore wanted me to cast Nicole Kidman or Julianne Moore. I was in agony. Every night I'd lie awake asking myself, "Is this what it takes to make it in this business? Finally I called the producer and said, "That's it. I've put stars in every other role. I'm casting Catherine Keener!'" – DiCillo
"I am not Tom DiCillo's muse. But I am amusing." -- Catherine Keener at a press conference for The Real Blonde.
"When you have a million people telling you you're incredible you end up believing it and not only that but it becomes crucial to your existence that they keep saying it. And that's where the disease creeps in." –DiCillo on Stardom
"Some directors can deal with all the maneuvering it takes to work with a corporation. I can't. It's too exhausting. A film made by committee is a pizza with everything on it that is literally inedible." --DiCillo
"One Hollywood offer I got was a film about a happy, sexy prostitute who dies and comes back to life as a shepherd/collie mix." --DiCillo
"One of my producers on Double Whammy was a convicted drug felon living here illegally. The other was an inventor living in a van in a parking lot on Santa Monica beach. His invention was a foam rubber device that men could place over their penises for maximizing pleasure during masturbation. Neither of them had a dime." –DiCillo
"Everything in the film business is based upon perception; how your film is perceived, how you are perceived; how your future is perceived. A film going straight to video pretty much takes all those perceptions and flushes them down the toilet." --DiCillo on Double Whammy.
"DiCillo has crafted perhaps the deepest examination of male companionship of recent decades. Delirious underscores the deep-seated bond that can surface between two men under the weight of intense experience and volatile circumstance." – Wayne Byrne on Delirious
Michael Pitt and Steve Buscemi in Delirious
"When we took When You're Strange to Sundance a distributor walked out after just five minutes. I ran out after him because I'd really wanted him to distribute the film. When I asked why he was leaving he whirled on me and said, "I can't believe you used a stunt double for Jim Morrison!" I said, "It's not a double; it's really Jim Morrison!"...he stared at me in this twitching, flustered rage, as if I'd just played an even sneakier trick on him. He never saw the remainder of the film." –DiCillo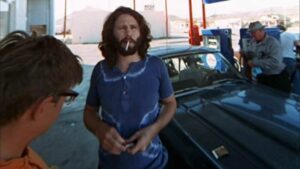 Jim Morrison in When You're Strange
"DiCillo's When You're Strange is a meticulously crafted, exhilarating ode to one of music's greatest, most exciting ensembles. What an honour to have been involved. I am as proud of this as anything I have ever done." Johnny Depp, Narrator, When You're Strange
"Even the artiest of art films needs some kind of success in order to enable the filmmaker to make another film. Although I have made serious efforts to play the game the flood of bullshit can make you feel like you're suffocating in it. I still believe that the best way to make a film is to write the script that most excites you, then cast the actors whom you feel are absolutely perfect for the parts no matter what their fame status is." –DiCillo