I'm about 8 miles high somewhere over Kansas. It's pitch black out the window. I'm flying out to LA to finish the final mix and the color correction of When You're Strange. The entire film has to be completed and shipped to Sundance by Dec. 29.
A couple of clarifications: this is not the official site of the film. That is being set up by Rhino Entertainment and will include all the details about the film they feel legally obligated to reveal. As soon as it is up and running I'll post the address.
The artwork that exists on this site is not official either. It's just me, messing around. I'm slightly more than 100% confident that the final artwork will look totally different.
The photo in the banner above is a freeze frame from the film. Its original source is a 35mm short feature that Jim Morrison wrote, starred in and financed called HWY. He had a tiny crew of friends from his days at UCLA film school. The team consisted of soundman Babe Hill, editor Frank Lisciandro and cinematographer Paul Ferrara. Most of the amazing footage that comprises When You're Strange was also shot by Ferrara.
I did not know HWY was a separate entity when I began this film. Before the job was officially offered to me I was sent boxes of dvd's with no labels except ones like "The Doors—Lab Roll 0045". Outtakes of HWY appeared at random throughout the dvd's, mixed in with many hours of footage of the band shot between 1966 and 1971. Most of the footage had no sound. Some had been recorded but the original 1/4" tapes had disappeared.
As a result, the first wave of film was utterly silent.  Watching it was like entering another world; like falling sideways into a crystal sharp mirror of America; only one that was tilted backwards at a 40 year angle. The footage was stunning. There was nothing musty or nostalgic about it; it all seemed like it was shot three days ago. But the shots of Morrison wandering through the desert were mesmerizing.
From the beginning I was under tremendous pressure to come up with a Concept.
What's the Concept, man?! What's the Concept!!
After 3 weeks of sleepless nights an idea poked into my brain about how to use this footage of Morrison to connect the whole film. I won't reveal it here because its surprise is crucial to experiencing the film. Out of respect for Morrison's HWY only outtakes are used; no edited sequences. The shots are so personal and intense they give When You're Strange the feel of a dramatic feature. In fact, a few people who've seen the film can't believe it is Jim. At one screening some helpful genius asked, "So, who'd you get to double for Morrison?" This prompted several members of the team to panic and contemplate tacking on a disclaimer explaining the film used no actors or re-enactments. I'm happy to report that idea was quickly vetoed.
But I'll say it here one more time just so there ain't no confusion: every frame of the film is of Jim Morrison, Ray Manzarek, Robby Krieger and John Densmore. Absolutely nothing is re-enacted.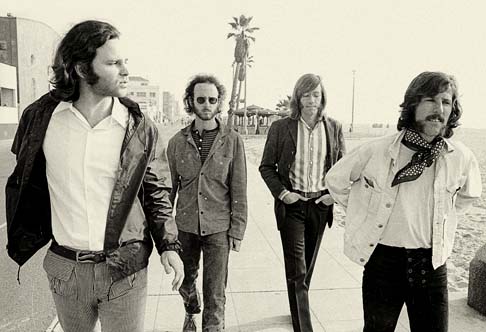 The power of all this original  footage sparked another idea; to keep the film entirely in its own time-frame. And here I reveal something that may thrill some fans and infuriate others: there are no contemporary interviews or talking heads in the film. The film tells the story of the band using only the real footage of The Doors.
For this offense I accept full responsibility. I felt there was more benefit in letting the images speak for themselves. It keeps that wild, 6-year moment completely fresh and alive so audiences can fall into the story and experience The Doors as if it were all just happening now.
But, don't get me wrong; the film is still a highly detailed historical document of The Doors. I had private conversations with each member of the band. One afternoon at Robby's house he told me his two sole addictions are the 2 G's; Golf and his Guitar. He played me a cut from his new solo album with a guitar line so incredible I asked for a copy right there. He politely refused. But he blew my mind when he called the next day saying he liked my suggestion to add some urban grit to a drum track.
I spoke to Jim's sister Anne and several members of her family. Anne invited Peter Jankowski and me to her home for dinner one night. After homemade strawberry shortcake she floored me by placing in my hands a rare copy of Jim's first self-published books of poems.
I met with Penny Courson, the impassioned mother of Jim's girlfriend Pam. Ownership of the Morrison estate passed into her hands upon her daughter's death and is now shared jointly with the Morrisons.
Jeff Jampol, The Doors manager, co-ordinated all of these meetings. Some of this water runs deep with tricky currents; it clearly revealed Jampol's extreme skill in navigation. He also provided some real insight into the band that helped form the film.
I read the entire transcript of the Miami trial where Jim was charged with felony for "exposing" himself. The testimony reads like a scene out of Kafka written by the Marx Bros.
Prosecutor Terrence McWilliams: "How far would you say your organ was behind Morrison?"

Ray Manzarek: "Oh, a comfortable distance."
I listened to every Doors album as if I'd never heard them before. I was 14 when their 1st record came out. I was on my way to a junior high school dance with a plastic shampoo bottle that I'd emptied and filled with scotch. I was sipping it when the original, long version of "Light My Fire" first snaked itself into my brain. Even now that song evokes the taste of warm scotch laced with soap.
I read every book and magazine article written about The Doors and found only in the rarest circumstances did any two people agree about anything. The most daunting challenge was trying to arrive at something personal and hopefully, truthful out of all this information. The last thing I wanted do was simply paraphrase everything that has been written or said about this hugely respected, hugely influential and hugely controversial band.
I began writing a narration to help connect the scenes. The first sentence was the hardest I've ever written. After a few days the words began to come a little easier. My editors Micky Blythe and Kevin Krasny were great, creative collaborators in finding and building the images into fluid sequences. But the process of discovering the film was a completely new experience.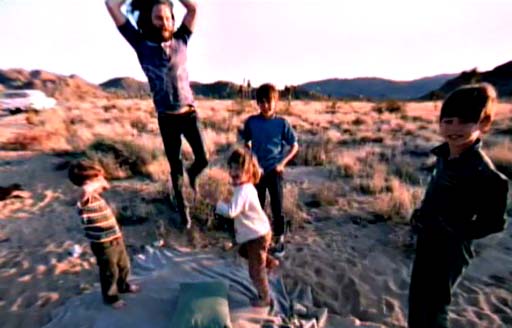 Usually, when I write a screenplay, I'll sit alone for a few months pounding out a 1st draft. I'll show it to one or two people then start the 2nd draft; again working entirely alone. All the trial and error takes place between me and my keyboard. With When You're Strange all the trial and error took place in public. At least 5 people witnessed each attempt at fitting narration to image. Sometimes it worked; sometimes it didn't. When it didn't there was no place to hide. With Micky's and Kevin's encouragement I basically discovered the film by thinking out loud for almost a year.
And the more I learned about the band, the more the film kept evolving. When You're Strange is not just the story of Jim Morrison. It is the story of The Doors--all four of them. Ray Manzarek once said The Doors in concert were like 4 sides of a diamond with Jim at the forward point, Ray and Robby on either side and John forming the point in the rear. Each side was equal to and supporting the other.
I absolutely believe this is true.
And, oh yeah; did I mention that nothing in the film is a fokkin' re-enactment?