Just as my brain recovers from the trip to Deauville someone sneaks up from behind and thwacks it with a giant tennis racket. As a result it lands in San Sebastian, Spain about 7 hours before me and stubbornly keeps its distance. The 5 days there play like a slightly damaged DVD with only flashes of coherence breaking through.
This shot from the hotel window does a little bit to help convince me I was there.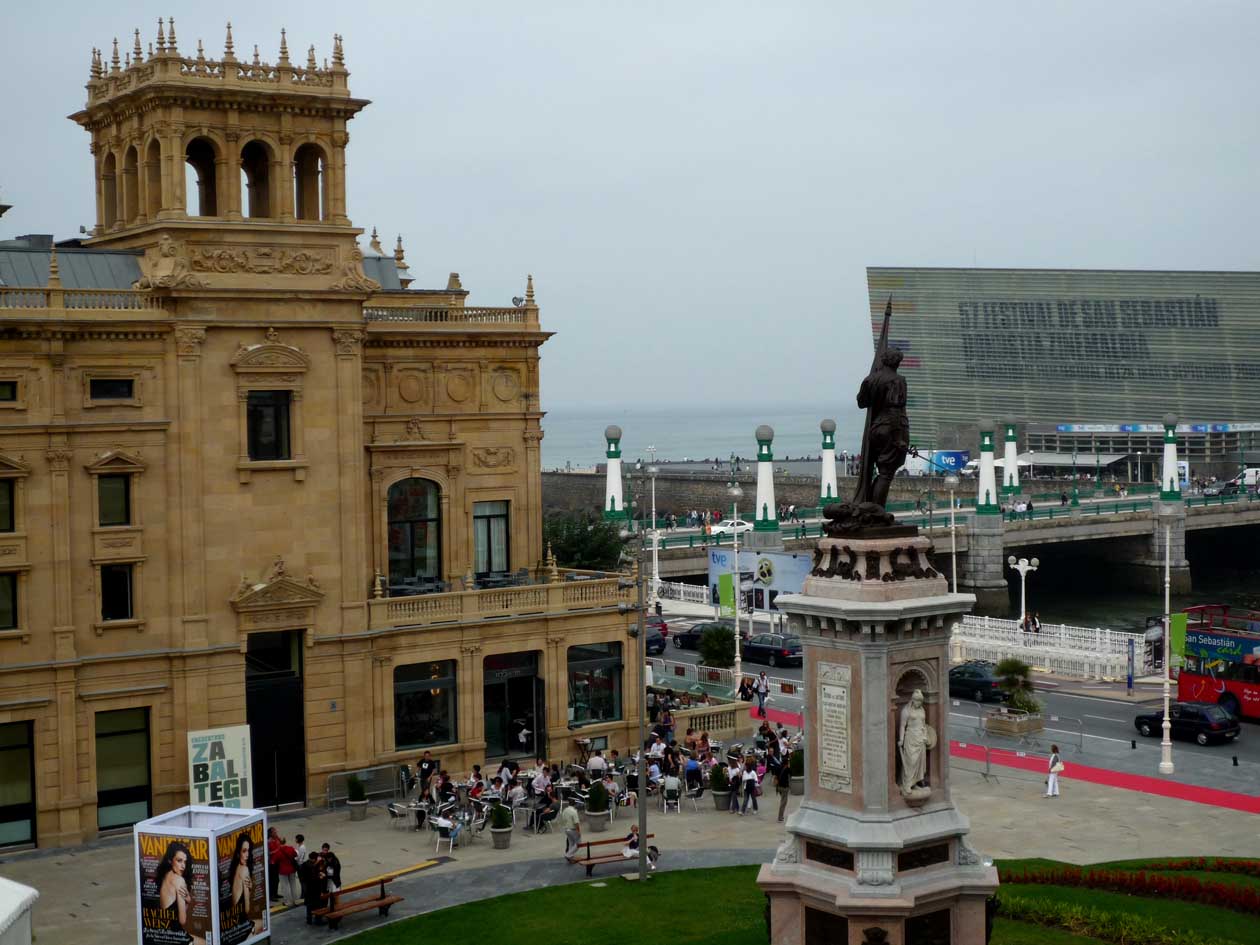 The modern structure is the Kursaal, the festival's 1800 seat theatre. Beyond it is the Atlantic Ocean. The waves are long and sloping and can get massive. Even on a cloudy, rainy day there are at least 100 surfers in the water.
San Sebastian is considered the smallest of the A-List festivals just after Cannes, Berlin and Venice. It gets the big films and celebrities (Tarantino and Brad Pitt were there the day before I arrived) but there is none of the attending bullshit. This gives the festival the rare combination of both glamor and intimacy.
My friend Pepe Colubi arrives from Barcelona. He's a free-lance journalist and novelist. He's following me around for a day doing a short piece for the Spanish daily El Pais. Pepe lived for a year in LA in 1983 and is still severely addicted to California surf culture (among other substances). In the hotel lobby he shows my wife Jane and me how to drink an iced double espresso. Pour the hot espresso into a glass of ice. Quickly drink the hot-cold concoction in one gulp. Wait three seconds for the caffeine rush that hits like a snort of coke.
A woman walks up to our table, points at me and exclaims, "Gilipollas!" I'm about to thank her when Pepe informs me this is Spanish for a part of the human anatomy where the sun seldom shines. When she staggers back against the wall I realize she is drunk. She lurches in for another round of invective before hotel security arrives and escorts her out.
The caffeine buzz and and a shot of scotch get us across the street and into the theatre. To my amazement it is almost full; at least 1300 people have shown up at 4:30 in the afternoon.  The film plays to almost complete silence. But, again as in Deauville, no one walks out. At the end a huge, lengthy ovation so passionate it startles me.
The press conference afterwards starts quietly. My brain had not informed me it was taking the day off. It's not until a journalist asks me what I learned from the film that something stirs awake in me.
"I learned that it is OK to believe so strongly in something that success is irrelevant. The Doors music has never been heard in a commercial. I am hugely inspired by that; especially today when literally everything is for sale."
Or something like that. You can fast forward through it here.
Afterwards a quick photo session on the promenade just above the beach. Behind me the waves are incredible. In the afternoon sun the water looks like blue jello. All I can think about is getting in it.
Jim Jarmusch is at the festival with his most recent film, The Limits of Control. He and Sara Driver come to the screening of When You're Strange. At dinner afterwards they both express how much they were impressed by and moved by the film.  I've known Jim since 1976. Although we both live in NYC sometimes years go by without us seeing each other. Here in San Sebastian, 4000 miles from home, we sit and talk and it is like nothing has changed. He shows me and Pepe a card trick with no cards.
There is an unusual press event the next morning. In an indoor studio a line of tables has been set up on a fake street set. A number of filmmakers are seated at these tables as if we are at an outdoor cafe. An audience sits before us. Some guy is playing cocktail music on a piano. I'm not sure if it's my hangover, the jetlag or what he's playing but the gooey, lite-jazz coming from the piano is beginning to induce dizziness and nausea.
The show is filmed live. The host, a very well informed Spanish TV journalist, goes from table to table doing lengthy interviews with each filmmaker. I'm number four. This gives me time to observe that there is something oddly absurd about this complete stranger coming up to tables at an "outdoor cafe" and just sitting down uninvited. I guess this is what prompts my response when he sits down beside me and asks, "So, Tom DiCillo, When You're Strange. What can you tell us?"
"Well," I say, "What I can tell you is that the service at this place is terrible. I ordered a beer two hours ago and I'm still waiting for it."
The audience laughs. They get the joke. Clearly I had not ordered a beer because it is not a real cafe. But the host's laugh is tense and uneasy. He says he will take care of it and then explains that the guy at the piano has been playing Light My Fire for 45 minutes. The news floors me. All I can think is thank god Ray Manzarek is not here to hear it.
Two minutes later, to my horror, a real beer is set upon my "table." The audience applauds. Of course the expectation--even at 9:30 in the morning--is that I drink it.
I raise the glass and take a sip. The audience applauds again. I smile grimly and set the glass back down, exerting great effort not to show the effect the beer has gurgling and fizzling down into my empty stomach.
I had honestly thought it was a good line.
That night a drunken Basque woman crawls out from beneath my bed and stabs me in the teeth with a cocktail swordfish. I open my eyes and I'm driving north in the rain on the New York Thruway. When You're Strange is showing in 6 hours at the Woodstock Film Festival.
Festival co-founder Meira Blaustein had seen the film at the LA Film Festival. She liked it so much she immediately phoned me with an invitation. And immediately, I said yes. Woodstock has emerged as one of this country's most unique and exciting festivals in the 10 years since Blaustein founded it with her partner, Laurent Rejto. Because of their profound commitment to film the festival attracts impressive attendance from actors and players in both the independent film world and Hollywood.
The festival headquarters is in an old bar/coffee shop just off the main street. There is a quick request for a radio interview. Just before we go live the producer urgently reminds me not to say "the  F word."
"I thought this was Woodstock," I mutter.
"This is a Republican funded radio station."
During the interview all I can think about is the F word. Will I say it? Should I say it? Did I just say it? Finally the interviewer wraps up by asking, "So, what's next for you with this crisis in independent film?"
"Well, I'm seriously contemplating opening a lingerie store."
He stares at me. "Women need lingerie," he says finally. Behind him I see the producer wince as if in agony.
I stroll through the town. An odd feeling comes over me as I pass folk art galleries, Tibetan jewelry stores and health food bakeries. I stop in front of a store selling tie-dyed clothing and pot paraphernalia. Richie Havens singing High Flying Bird comes through the open door. A sign above it reads, Hippies Welcome. Kevin Corrigan walks out. He was in Living In Oblivion and Delirious. He's at the festival with two films. He's also a huge Doors fan and had turned me on to a CD of a rare Jim Morrison interview that I used in a key scene in When You're Strange.
We share an embrace before he's gone, rushing off to a screening of one of his films. 
BMI hosts a dinner for musicians and films about music at the festival. I meet Michael Lang, the founder of the original Woodstock music festival. Barbara Kopple, a filmmaker I greatly admire is there along with Leon Gast who made the brilliant documentary When We Were Kings.
At 10 pm I'm driven to the theatre for the screening of When You're Strange. The parking lot is jammed. The woman who is driving me finds a spot then says quietly, "I'm not sure if you're into it but I feel compelled to ask; would you like to sample a bit of Woodstock organic homegrown?"
Now, here are the facts: in 10 minutes I have to stand up in front of 500 people and introduce the film. Then I have to do a 25 minute Q & A after the screening. With that in mind I turn to look at this woman driver. She's a little older than me and attractive in a soft, pleasantly plump sort of way. Her long black hair is pulled back in a thick ponytail. A pair of wire-rimmed glasses reflect the light from a slowly passing car. As she smiles she suddenly reminds me of my highschool art teacher.
It is of no consequence whether I do or do not inhale but I will say this; that night I give the best introduction to the film I've ever done. In fact, when I slip into my seat filmmaker Richard Linklater surprises me by leaning over and whispering, "You nailed that one, dude!"
Watching the film with the Woodstock audience is truly enlightening. Most of them have lived through the events in the film; the rise of the Youth Movement, the anti-Vietnam War protests, the drug experimentation and the belief in tolerance and acceptance for all Americans--men and women. Every time these themes are addressed in the film the audience applauds, laughs or yells at the screen. And they all move to the music.
At that moment I realize what I'd been feeling walking through town--a surprising sense of familiarity. These ideas had a huge impact on me when I was 17. They formed a large part of my consciousness, especially the belief in artistic freedom and the rejection of automatic obedience to Authority. For the first time I realize how deeply ingrained these ideas are in the film.
Afterwards, an amazing response comes from Leon Gast. He puts his hands on my shoulders, looks me directly in the eye and says, "You had me from the first second. And you never let go."
In the morning I speak on a panel called Music In Film. It is hosted by Doreen Ringer Ross from BMI and ends up being that rare public discussion that is both informative and entertaining as hell. It is interesting to me as I tell a very heavy story about my nightmares with an ego-ridden composer that I am the only one not laughing.
Again, you can wander through clips from the panel here.
I stick around afterwards to listen to a panel on The Crisis In Independent Film. The panelists are all key players in the independent film world. I am extremely anxious to hear what they have to say. The stock market crash has had a devastating effect on the community. Every filmmaker I know is talking about how awful things are. Nothing is being made. Five independent studios have folded in the last year. Only films with huge bankable stars even have a chance of getting financed. With two new scripts just entering the development stream, yes, I am very curious to hear some advice from the front lines.
Despite my genuine respect for all the panelists I start to get the sense that nobody really knows what's going on. There is a lot of talk about "new models, out of the box creative financing, the great power of the new inexpensive media and the unexplored value of the internet." But no one talks about how to get a film in front of an audience. Then, one panelist drops this bombshell,
"The theatrical release now has a diminished importance, occupying only one small layer of a many-tiered marketing campaign for a film."
All the panelists agree.
My brain starts cramping. I'm just as much a realist as anyone else but what is a film without a theatrical release? The entire concept of cinema was born out of theater and public performance. The first narrative films were really nothing more than filmed plays. No one, then or now, would ever have considered putting on a play for an audience of one. That experience is generally called reading a book. Film began as a communal experience. Going to the cinema in large, sweaty clumps of humanity was the way film became scorched into the massive public consciousness and became Bigger Than Life.
It was not until the introduction of the VHS tape that individual, personal ownership entered the equation. Now people could take the film home and watch it on their TV's. Now an ancillary market sprang up for revenue after the theatrical release. Home video was born. A completely different way of watching a film emerged. Alone. By yourself. On a pale, 2-foot screen next to the radiator.
How is this a victory or a way to survive the Crisis? To me it is a tragedy of gargantuan proportions. It means the only films that will screen in theatres will be the spectacle films; the "high-concept" lobotomizers about robots, 3D mice and the end of the world.
Somehow though, I walk out into the daylight inspired. I don't think people are going to let the theatrical experience become extinct. Seeing the audience's reaction even to the Doors film convinces me of that. There will always be a fierce and passionate desire for people to gather together in groups and allow the art of cinema to do its magic. It will be harder to get an independent film into a theatre; there is no question about that. But, I'm excited about it. It's like the wild west again. 
No laws, no rules. Anything goes. Anything can happen.
I go back to my room and pack. The festival had arranged for me to spend the night in the guest room of someone's house deep in the woods. The owner's car is in the driveway but no sound comes from the house. A light fog settles in outside the window. This is me in the room.
This is me not in the room.