WHEN YOU'RE STRANGE
OPENS APRIL 9 !!!
Check your newspaper listings. Advertising is going to be sparse. Word of mouth is going to be crucial. Don't be shy about telling your friends, even your non-friends. Tell priests, rabbis, dj mixmasters. I've got three guys coming from my boxing gym. The guy who delivers trees for my wife's plant business is bringing his whole family.
Look here what Elaine did in Atlanta. I sent her a digital flier with the Atlanta cinema info on it and she printed them out herself then went out into the city for 5 days and put them up. For nothin'!! I'm telling you, it doesn't get much better than that for support and enthusiasm. Thank you, thank you, thank you, Elaine.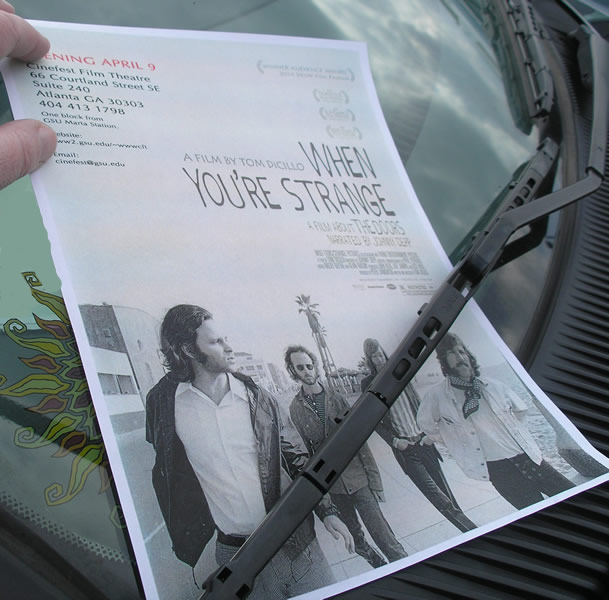 Elaine wrote about her experience putting up the fliers on her own blog. Check it out. Here's an excerpt from Day 4:
Upon starting the car, "Light My Fire" plays on the radio. I am no longer surprised; it's as if the Doors music now keeps me company as I work to spread the word about the film. What DOES surprise me though, is seconds after the song ends, the DJ starts talking about WYS. She says she can't wait to see this incredible Doors documentary, starting in Atlanta in April. I am stunned and yet elated. And her announcement happened during lunchtime driving traffic. I laugh out loud, thrilled for this shout-out for the film.
Anyone interested in following Elaine's lead can download the flier below. I also placed it on the PHOTO page above. Try the same procedure there if it doesn't work here.
Just right-click on it and choose Save Picture As and send it to your desktop. I won't have time to fill in the info. You can either do it yourselves via photoshop or just write in by hand. Only thing that matters is that people see where it's playing and when. Print out 100 copies on your home printer and go to town.
And if you don't have the time or resources for that then just start pounding out the emails.
I've been doing the same since I got back from LA. I did 2 days of press there for the film with Ray, John and Robbie. All three expressed enormous faith and support in the film. Densmore and I did an in-store appearance at the Apple Store in Santa Monica. It was moderated by the legendary LA dj Jim Ladd of KLOS. Ladd's voice is in the film, used specifically for a scene where Morrison hears some disturbing news on his car radio. I expressed my thanks to Jim Ladd in an email. Here's what he wrote back to me:
I will keep talking about it. I also want you to know that I think word of mouth will be HUGE for this film. Once people see it they will tell their friends, which is really the best publicity you can get. As far as me being in the film, it goes without saying that it was an honor for me.
Jim Ladd
As you can see, working on this film has enabled me to meet some amazing people.
And so, I leave you on the eve of the release of this 2 1/2 year-long effort with this encouragement. Do not under-estimate the power of one. Spread the word if you have the time. It will be appreciated by us all.