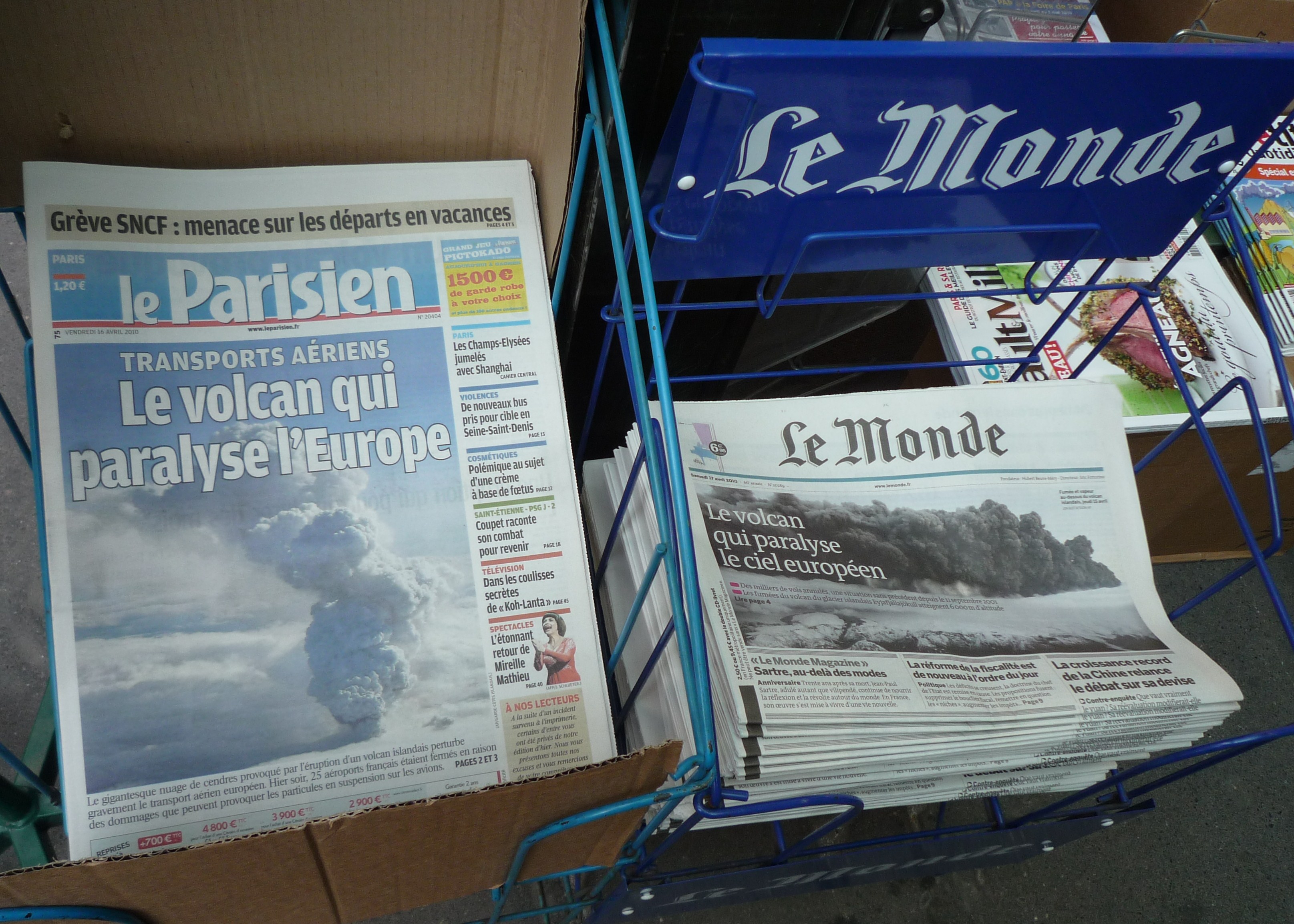 The headline says it: the volcano has shut down Europe. I know, I know; it could be worse. Is it really that terrible to be stuck in Paris indefinitely? No, but the indefinitely part definitely makes me uneasy.
Today, in between spending hours on the phone trying to find a flight, I took a walk along the Seine. It is sunny here but cold. In the shadows the wind has a chill that still carries the stiff twist of winter.
The sight-seeing boats on the river have only a few passengers. As I cross the bridge near Notre Dame my brain starts revisiting the events of the past three days.
John Densmore and I did about 50 interviews, sometimes alone, mostly together. I've found myself growing more and more impressed and fascinated by him. He's amazing with the press; always gracious, and always surprisingly informative.
He never says a bad word about anyone--unlike me of course. But, many times during the interviews I find myself turning to him and just listening in awe.
He told a story today of Jim Morrison showing up at the house John and Robby were sharing together in Laurel Canyon in LA before the Doors became famous. Jim was clearly feeling pretty down. Robby and John suggested he go up into the hills and check out the view of LA stretching out far below. An hour later he returned in a better mood. He handed them a crumpled sheet of paper on which he'd scribbled some lyrics:
People are strange when you're a stranger
Faces look ugly when you're alone
Women seem wicked when you're unwanted
Streets are uneven when you're down.

When you're strange
Faces come out of the rain
When you're strange
No one remembers your name
When you're strange
When you're strange
When you're strange.
As John tells this story there is no attempt to idolize or possess the memory of Jim. There is only quiet admiration and respect.
In an interview this morning John told of an incident when the Doors were playing live and Jim took some flowers off John's drum stand and stuck them under his pounding drumsticks. As John kept playing the flowers were shredded into pieces that went flying. John laughed, suggesting this was Jim's way of stating his opinion of "flower power."
The French journalist didn't understand, so I took some flowers out of a small vase on the table and held them in front of John. He started beating on them with his hands and bits and fragments flew into the air. The journalist finally nodded in understanding. A half-hour later as the interview ended, John reached out and took part of a flower stem out of the guy's hair.
I walk for two hours. Back to the hotel there is no news on flights out. I go up to my room and crash for a while. The phone rings. It's John. A friend of his gave him a big bottle of champagne. Do I want to meet him in the lobby and help him and his girlfriend Ildiko dispose of it?
An hour later the three of us are plastered. We head off on foot looking for a restaurant as it is after 9 pm and champagne on an empty stomach with a chaser of jetlag is a wicked combo. The three of us wander down a long narrow street. John and Ildiko are supposed to fly back to LA tomorrow. There is no news on their flight.
The last news I heard was that I will be here until at least Tuesday. We are lost, stranded in Paris, as if wandering through some long, strange dream.
Exactly. It could be worse.