Alright Wayne, you axed for it. Well, actually you didn't but here you go anyway.
The financier of The Real Blonde told me at the beginning of production he felt it was time for me to make a "bigger film," one that would play in Middle America. His first demand was that I not cast Catherine Keener, who had been in all my films up to that point, and for whom I'd written the part.
I say this only to illustrate that from the outset the battles were deeply personal and relentless and although I lost a few of them I also won some crucial ones. Catherine did end up playing the part; brilliantly.
But, other aspects of the script suffered from this insistence on making the film more commercial. The ending, with the stolen dog finding its way home was never intended to carry so much weight, or to be taken so literally. There was a scene just before it dealing with Maxwell Caulfield and his abusive relationship with Bridget Wilson, which was intended to add a contrast and counterbalance to this.
Under pressure, it was cut and as a result the film ends in a way that I never intended, nor do I believe.
But, one of my favorite scenes involved Caulfield's obsession with finding a woman who is a real blonde. This of course is an idiotic quest, but like all obsessions it had a sliver of truth in it that interested me.
A theme in the film is the idea that most of the things its characters are concerned with are fake or artificial. Matthew Modine comes face to face with Madonna only to realize it is her body double, Elizabeth Berkely. I was interested in how frequently we can't see the truth that stands right in front of us, and can't tell the difference between what is real and what isn't.
Ultimately, Caulfield's obsession drives him to devalue, and demean  Bridget Wilson, the only woman who truly loves him.
We all are driven by things we feel we need to obtain in order to be Happy. Most of the time these things are either unobtainable, or revealed to be useless when they are finally obtained. I'm repeating my fixation on the notion that the last place we look for self-value or meaning is simply within ourselves.
So, I filmed a scene where Caulfield, the affable, successful playboy soap star, sneaks into a porno booth on 42nd Street. He stands behind a tiny glass window and peers into a darkened, circular room, around which other men can be seen in identical windows. They are like viewers in some strange porno aquarium at the bottom of the sea.
The focus of their gaze is a woman half-reclining on a cheap, rotating stage. A disco ball circles slowly, scattering shards of light around the room. The woman is not attractive. She is not svelte. But, to Caulfield's rapt amazement, she is a real blonde and that is all he cares about.
Absurd? Yes. Intense? Yes. The scene was one of the most cinematically rich and disturbing that I have ever shot. To me it perfectly suggested the uneasy underbelly of the film. But, just before the film was released the financier declared the scene would kill the film in the Heartland and insisted it be cut. I refused. He insisted harder. I said I was taking my name off the film. He said go ahead.
I sought the advice of everyone I knew in the business, personally and professionally. The sum of opinions was, yes, it will hurt you to cut the scene but for the good of your career, and the film, just swallow it and do it. And so, against every grain of my artistic instinct, I did. Little did I know that casting Steve Buscemi in the film as the indie director who moves up to directing Madonna videos would have so much personal resonance.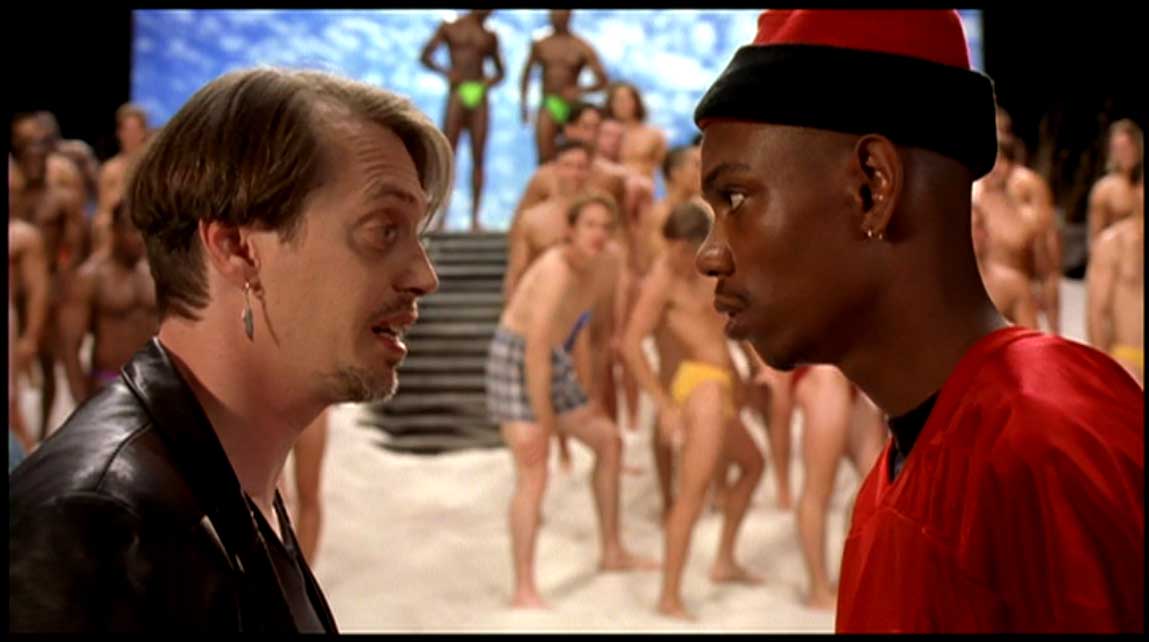 The film bombed. It never even got within 10,000 miles of Middle America. But honestly, that didn't bother me even a fraction as much as knowing what I'd allowed to die on the cutting room floor.
I still wake up at night thinking about it.