Flew to Munich for a Retrospective of my films at the end of June.
I was not sorry to leave that world behind for a few days. The Munich Film Festival put us up at the Bayerischer Hof, an elegant old-world hotel where Michael Jackson had stayed once. We fatefully arrived on the anniversary of his death. A cluster of his Munich fans gathered in a park outside the hotel. For several hours the mourners held hands and moved in a slow circle murmuring the words to Billie Jean.
One woman carried a small wooden box which was treated with sincere reverence by all. It was only after snapping this photo that I realized the weighty portent of its contents: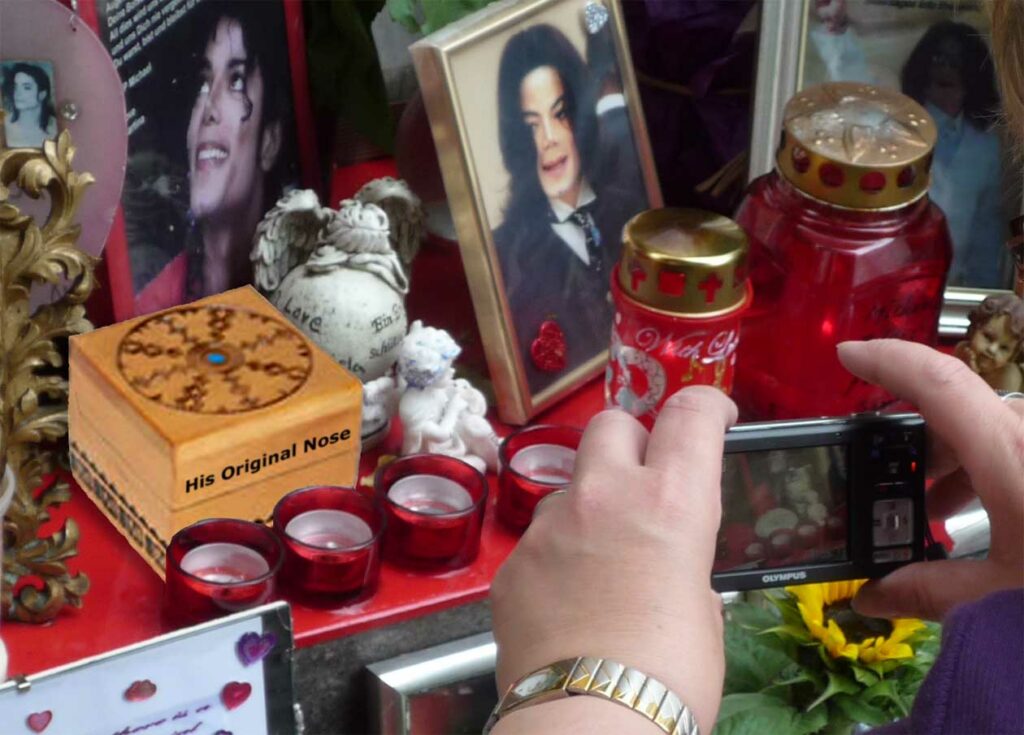 I must confess that macabre and disturbing spectacle left me quite shaken. I couldn't help wondering if the entire experience ahead of me would now be colored, tainted so to speak, by this melancholy whiff of the tomb.
I managed to put it out of my mind in time for the walk over to the festival headquarters where my Retrospective was about to begin. A televised photo display inside the hall was impressive and encouraging.
But, when I was asked to perform the ceremonial "Signing of The Large Poster" ritual I grew uneasy again. Yes, it was an honor to be there with Andreas Stroehl, the celebrated head of the Munich Film Festival. And, perhaps it was the jetlag but somehow I just couldn't appreciate the joke.
Someone had drawn a mustache and goatee on my poster. Sure, I was smiling but inside I was a mass of rage and hurt feelings. I couldn't believe they'd let someone come in and deface my Large Poster. And on the first day of my Retrospective!
Nevertheless, I signed it; thinking so much about catching that sneaky graffiti bastard and kicking his fucking ass that I barely noticed the mustache had changed. I decided instead to roll with it, to go with the flow. Munich was known to be an edgy, free-spirited festival and maybe I was making too much of it. But, once again I couldn't help but feel the spell of Michael Jackson's orphaned nose settling down upon me.
More was yet to come. Later that night as my wife, Jane and I were walking back to the Hof, I saw a guy selling vintage photographs on the sidewalk. They were shots of Elvis, Marilyn, James Dean and the King of Pop himself with his sequined glove; all in elaborate, glittering hand painted frames. Laid out on the sidewalk they looked like a gaudy, kitsch graveyard. I was about to take a picture when a guy ran up to me blurting, "No photo! No photo!"
It kind of pissed me off because clearly these weren't his photos. Most likely he'd downloaded them from the internet, come up with the glittery frame idea and was now cashing in on them.
So, in the mood I was in I felt completely justified in ignoring him. I raised my camera and pressed the shutter. This is the shot I took.
Yes. Another nose. This guy's left a smudge on my lens I still can't get off.
The next few days were blessedly free from occult trauma. I went to the screenings of my films and engaged in lively discussions with the audiences. I like talking directly to people just after they've seen a film and I try to be as honest with them as I can. After a screening of The Real Blonde a question arose about the meaning of the title. I said it referred specifically to a woman whose "collar matched her cuffs."
A large blonde woman in the front row exclaimed, "Yes, her pubics hairs matches her head hairs. I am such a woman!"
She offered proof but I politely declined, not out of squeamishness but because I'd forgotten my glasses.
After Box Of Moonlight a guy scowled at me and said, "When you walked out to speak I looked at you with your long hairs and I said here is just another Hollywood uberkaese (super cheese?) and I was prepared to sneer at your words. But when you spoke I realized my judgment was premature."
"Oh. OK, thanks," I said, fiercely restraining the urge to slap him. "Should I cut my hair? Is that what you're saying?"
"No," the guy said, scrutinizing me intently. "But perhaps a mustache or goatee would help."
My pulse exploded. Was this the guy? The graffiti freak? The whole rest of of the discussion I was rattled because I kept looking at his hands to see if he was clutching a magic marker in one of them.
Over the next few days I did some interviews and talked for a while in the Black Box; not a torture chamber but a press room set up by the festival. Anyone wishing to take a break from watching paint dry can venture here ,  here and here.
John Malkovitch was also being honored at the festival. It was great to see him and I was happy he was getting more attention than me but it did kind of piss me off that somehow, someone had made sure no one had defaced his Large Poster.
We hung out for a while one night. He seemed nice enough and I liked him; even though he'd never seen any of my movies. But, hey; he's a busy guy. A lot going on. He's into photography like me. He's got a good eye. He saw three women with identical cleavage and took their picture.
I took a picture of him taking the picture just to show there was no hard feelings. We all had a good laugh. It was good times. It shows how film festivals aren't just tons of hard work and raging egos and can really be a lot of fun if there is drinking and women in lowcut dresses.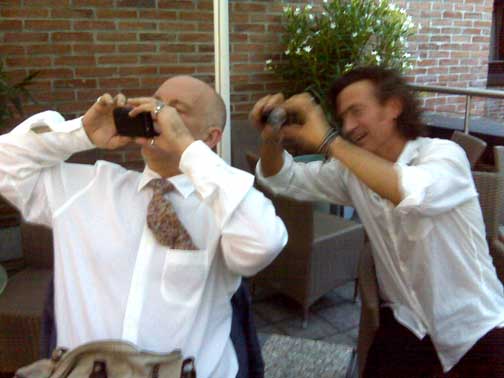 On our last day I was dragged reluctantly on a raft trip down the Isar River. This was a special event chosen by festival director Andreas Stroehl. I was not looking forward to sitting on a raft for 5 hours with only German pilsner for sustenance but as this was Stroehl's last festival I agreed so as not to hurt his feelings.
We were bussed up into the Bavarian foothills and deposited on a floating platform made of logs. It was an bright, clear day and the July sun was hot and dry. The raft had about 50 people on it; filmmakers from all over the world. The moment we set off I felt something shift in me. Here you can see just how reluctant I was.
About an hour in the raft eased into a deep, wide section of the river and the "captain" informed us this would be a good place to swim. Only a few people had brought bathing suits. Three women jumped in in their dresses. I stripped down to my underwear and dove off the side.
I was completely unprepared for the cold shock. Then I remembered Andreas mentioning the river was fed completely by snow melt. I came up gasping and numb and almost shot right back on the raft.
But then I realized that even though I was floating next to the raft the current was pulling us both down river at a fantastic speed. All I had to do was tread water and let the river pull me along.
About 15 people jumped in. I looked around and saw them gathered in small groups, talking, their bobbing heads ahead of me, behind me. The cold eased off. Our bodies lighter than the heavy raft, we were soon pulled ahead of it by the flow of the river. The people on the receding raft waved and yelled to us. Green, verdant banks rushed past. I felt a sense of peace and joy quite strange and unfamiliar to me. It was almost overpowering.
I forgave the Graffiti Guy and even briefly considered growing a goatee. And then, so quietly and easily I almost didn't notice it, the Curse of Michael Jackson's Nose lifted and blew away.
Suddenly, as corny as it sounds,  I realized I was finally...Going with the Flow.
And it made me think about the intense rush of the last six days. The festival had shown all 7 of my films, twice. The audiences weren't huge but they were eager, engaged and refreshingly appreciative. They gave an amazing gift to me; their interest--and I will never forget it.
It was enlightening watching all the movies together. I couldn't believe how many people had worked on them. As the names drifted past in the credits they brought back all the intensity of shooting; all the intricate relationships that had formed, all the people I'd interacted with so intimately and then moved on.
It was surprising to see which films held up. I was astonished at the strong reaction to Double Whammy, a film that I'd almost turned my back on due to it's agonizing non-release here in the US. Seeing it again, almost 10 years later I was relieved to see the sharpness still in the humor, the edge of absurdity still flickering in it.
These are my first 7 films. Each one is totally different. Each one has its strengths and weaknesses; its flaws and moments of joy. None of them would ever have gotten made if I hadn't fought for them as if my life depended on it. But, each was a labor of love.
How unbelievably lucky and grateful I would be to make another.