I feel a little guilty.
I'm not writing about anything that has to do with film--especially not about anything regarding progress on one of my own.
There is progress but it would only be of interest to those who get excited by watching snails race up a long, dry sidewalk.
I can say this though. I did go to the movies this weekend. And I had two distinct experiences at the theatre.
1. Sitting through the half-hour of trailers and ads was like having a giant sewage plant spewing a million gallons of shit right in your face. You look at these brutal, horrific and horrifically stupid films and and wonder who the idiots are; the people that think anyone wants to watch them or the ones that actually do.
This thought so depressed me I was tempted to slide out of my seat and collapse on the hard, sticky floor.
2. The film I saw was Moneyball. I recommend it. Brad Pitt is pretty phenomenal in it. There is a great little scene that just about crushed me halfway through the film where Brad's young daughter hesitantly sings him a small fragment of a song she's written.
She really sings it. And she really plays the guitar. It is an astonishing moment for both of them.
Which brings me to what I've been doing for the past month.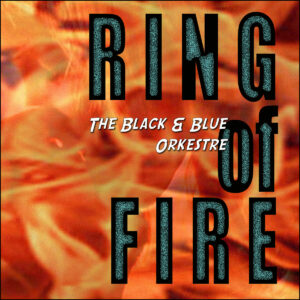 The Black & Blue Orkestre has finished another track, Ring Of Fire. This is our version of the classic Johnny Cash song (written by June Carter and Merle Haggard). Let's just say we honored the power of the original and added some of our own.
Grog wrote and played bass, as well as singing some extended background and trading verses with me. Will Crewdson wrote and performed a mere 99% of the luscious guitars.
It may not be filmmaking but I've got to tell you it's the closest thing to it and right now it is saving my soul.